Twice winner of the Solitaire du Figaro, and the 2018 Route du Rhum in Class40, also skipper of the VO65 Racing for the Planet, Yoann Richomme gives us his technical and strategic analysis of the Vendée Globe.
"On Christmas Eve, the fleet leaders are going through some crucial moments with different options taken by the three frontrunners: the leader, Yannick Bestaven, has managed to get out of the area of high pressure with a series of gybes along the edge of the Ice Zone before climbing a fairly long way north. He is now tackling the approaches to a low-pressure system (see image below) which is not that clear in terms of its position and the strength of the winds. On Friday, he is expected to enter an area of fairly strong Easterly winds, so will be sailing upwind; either he pushes hard in which case he will get 35 knots of headwinds gusting to 45, or he remains in the south of the low to protect himself. It will all be a matter of finding a compromise.
Two tricky effects due to the low
The centre of this low is moving in an unpredictable manner in the models, but the main idea is that it will deepen this weekend and Yannick is in for a double dose with, on Sunday, strong 40-knot winds backing northerly and gusting to 60 with 5m high seas, making this doubly difficult.
Today, it is hard to say whether he will manage to get away once on the other side of the low. It will all depend on the way in which he deals with the gale force winds that are forecast. He can either sail upwind  in strong or very strong winds, slow down or try to cut across. In the end, I believe his gains will be fairly limited. In the best case scenario and looking at this optimistically, I think he may get over this hurdle with a lead of 300 miles over Charlie Dalin and Thomas Ruyant. The latter two will have to work hard in the coming days to stay in the same system as Yannick, as otherwise he may make his getaway.
Charlie's trajectory is risky
For Charlie, who has steadily been gaining ground in the latest rankings, it looks like things will not continue to be so happy. He needs to continue to make headway east while the high moves off to the south. This is a risky situation, as if he is not fast enough, he could be swallowed up by the high and severely slowed down. I think he may lose a lot with this option, as the situation is fairly risky.
As for Thomas, he appears to have made the right choice sticking to the north. He has avoided the high and is sailing upwind. He will now have to choose how he gets through the low, but in theory, he will not be able to join Yannick on his journey eastwards.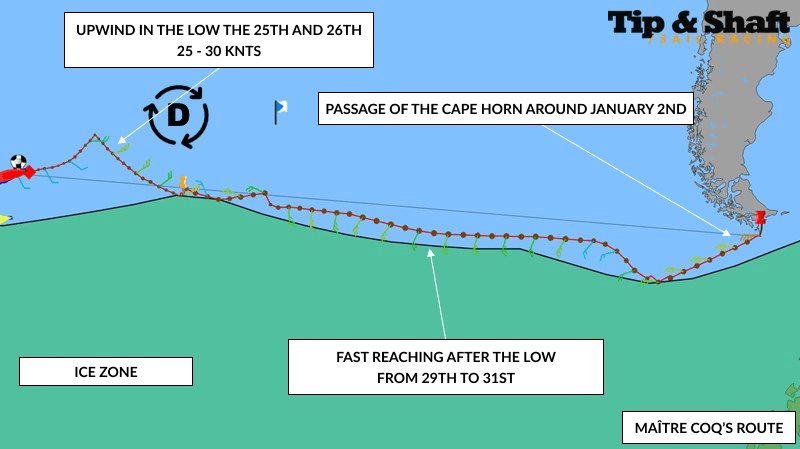 Looking ahead to a separation
Behind them, the situation is very favourable for Maxime Sorel, who is in a brilliant situation. He is benefiting from more wind than the rest in that group who are running into the high. This should allow him to get back in the game. He is currently catching those at the rear of this pack with around forty miles to go to catch Giancarlo Pedote. On the other hand, for Clarisse Crémer and Romain Attanasio, I cannot see any opportunities for them to get back, as they will once again have to deal with a big storm on Tuesday 29th.
The group of chasing boats (from Damien Seguin to Maxime Sorel) will have an easy time of it until Friday evening with light winds on the beam. They will then see the wind shift to the east, which will mean they will sail north to follow in the tail of the low. Unfortunately for them, they will not be able to stick with it for long and they will be slowed down again in calms. They will have to wait for the next system and it will be at that point (between 30th and 31st, see image below) that the gaps are likely to be widest between 800 and 1000 miles.
This is an important moment, because this high will create separation, the top three should stay ahead if everything goes well for them. I think one or two foilers, like Boris (Herrmann) and Isabelle (Joschke), can to escape this high pressure and stay in the same system as the three in front. For those with daggerboards, it seems complicated to me.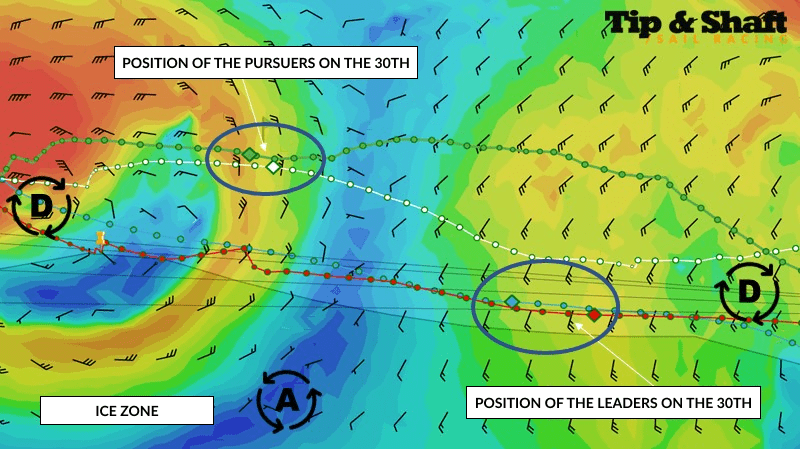 Awesome Pip Hare
The routings give a passage by Yannick Bestaven on January 2 at Cape Horn, but I am a bit cautious this time because the two forecast gales will surely have to be managed but slowing down.
Finally, I want to salute the very good race of Pip Hare who, with a 1999 boat (Superbigou, built by Bernard Stamm), a late and modest budget, stands up to skippers benefiting from newer and updated boats with foils. Her routes are beautiful and smooth, we can see that she knows how to use the weather and navigate, I find what she is doing is quite fantastic on a high level.
Happy holidays to all and see you next week for the outcome."
Photo : Pierre Bouras / TR Racing / DPPI | Portrait : Alexis Courcoux